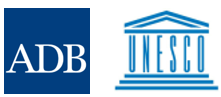 WWAP Toolkit on the Collection of Sex-Disaggregated Water Data
Presented by the Asian Development Bank and UNESCO
-
The Pacific region and in particular Small Island Developing States (SIDS) are highly vulnerable to the impacts of climate change and natural hazards, and access to clean drinking water and safe sanitation is still limited in these countries.  
The extent of the challenges, however, is difficult to measure due to a lack of sufficient and trustworthy data. There is a dire need for regularly updated data that is disaggregated by gender and other socioeconomic elements to ensure better reach, improved decision making, and more targeted planning.  
ADB and the UNESCO World Water Assessment Program (WWAP) are addressing this need by offering online technical trainings to select countries and partners to strengthen the capacity of water users and policy makers to integrate gender equality and inclusion in planning and operations.
The trainings will build capacity on the use of gender data analysis in the water sector through innovative tools, such as the UNESCO WWAP toolkit on water and gender.
*Please note that the first ADB WWAP pilot project training is available only to pre-selected participants. However, course materials will be made available on the Hub following this training.
Please stay tuned for other training opportunities as part of this exciting partnership.
GO TO TRAINING MODULES
LOG IN/REGISTER TO ACCESS TRAINING